317. Bogan and Broderick in Fort Worth - and Aunt Julie, of course!
318. An evening with Paul & Allison, soon-to-be newlyweds... Esther had Allison fully "decorated"
319. Idaho horse bites (don't know if Bran will ever be thankful for those)
320. Celebrating Esther's five years
321. A very fun "purple party" that came together quickly (!)
322. Cards and packages from far away family
323. Running my dishwasher three times Saturday - which means we got to have a lot of loved ones in our home
324. An evening with the Schaefers - time together always fun AND meaningful
325. I can't say it enough.... SUMMER
326. That my calendar still says July
327. Jordan's truck in front of our home on a nearly daily basis - means construction starts soon (and with that - thankful for Laura's new job!)
328. A (too quick) visit with Heather and her littles ones. Love her beautiful heart, her lovely family
329. Monday morning movies with neighbors... again, can we say SUMMER?!
I will praise the LORD all my life; I will sing praise to my God as long as I live. Psalm 146:2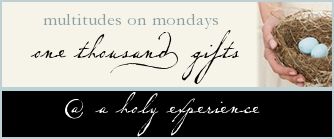 Tweet