He tends his flock like a shepherd, He gathers his lambs in his arms
and carries them close to his heart;
he gently leads those that have young. Is 40:11
Father, I cannot tell you the comfort it brings me that you gather my children in your arms, carrying them close to your heart. They hear your heartbeat, feel your presence, sense your nearness. When I am away from them, you are not only with them, but carrying them.
On the playground, you gather Basden in your arms, where she hears your heartbeat.
In the halls of a large middle school with large classes, you carry Branson, you whisper your thoughts into his ear, his mind.
With a busy week of football and baseball and tests, you carry Hud close to your heart.
And with Esther away all day, learning in a first grade classroom, you gather her into your arms and remind her of your presence.
And THEN - in this passage I've either never read before or at least not noticed, you gently lead ME with my young.
I could not ask for more. What a comfort, what confidence you've given me through this verse.
Thank you, Lord...
- Our first Moms In Prayer meeting, so touched by the women here, their prayers, their hearts for their kiddos and our school
- Emails from teachers
- That this is her favorite book
- Hitting a wall (full schedules, too much homework, etc), which brings dependence on You
- Your new mercies every morning. That when I go to bed not able to do/organize/ plan/ think through even one more detail, you wake me with a new morning, a new perspective, new energy
- Big brother watching little brother
- First Bible study of the year: Nancy Leigh deMoss' Seeking Him study; Lori's leadership; friends willing to share
- All things middle school, including the girls' volleyball games
- Both Mr. E's, Laura Stegall ~ amazing principals in our pyramid
- Our backyard, seeing lots and lots of kids in it
- Watching Hud's football scrimmage - Dana keeping me straight
- "Organizing" ~ one of her favorite pastimes
- Mrs. Nadar, and her 25 years in our library. What a gift.
- Middle school dance. Yes, thankful in all things. But actually, pretty much exactly like I remember mine.
Before the dance (thx, Tami, for snapping pics!)
They arrived late that night on a party-bus-limo to TP our yard - thankful Bran is old enough now to clean all this up!
- Shopping with these two characters makes it a lot more fun!
- Your Word, the comfort and promises it provides.
Look to the Lord and his strength; seek his face always. Remember the wonders he has done, his miracles... 1 Chronicles 16:11-12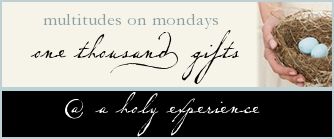 Tweet