- Artapalooza - inspired fun... bringing it home
More duct tape wallets
Home-made bubble wands of straws and yarn
Even Branson wants in on the fun!
- Essie's Peacemaker play. Sweet of Lori to make the time to come and watch, and there's some humorous irony with Cappy watching his granddaughter play the part of an environmentalist
Next to the end on the right, Essie smirks along with her environmentalist cohorts
- Getting to enjoy our backyard - the humongous gift of a
pool
- My helper
- These coaches. Among our very very favorites. Seriously, amazing.
Coach Davis and Coach Belcher fostered the love of the game, the loyalty of team, and the hope that even if we didn't get the win, you keep your head up and try for next time.
- Oh my gosh. Doc Hotch and his spontaneous bow fishing outings!
The size of this fish is nuthin' compared to Steve's adventurous spirit
That's my man
Corbin and Bran with their bounty. I think this photo was taken around midnight. On a school night. An hour and a half from home.
- Memorial day weekend at the lake with all four grandparents
- Big breakfasts thanks to Papa and Daddy (and Mama!)
- Basden's prophetic warning to Mama, "Watch out for tarantulas!" (they jump, you know)
- The boys and their fishing poles
- Cool AC and hot water (sorry, Daboo!)
- Basden taking me on a jet ski ride down the winding river
- Low country boil, though still a little spicy for the girls.
- How the kids climb, over and over again, onto the largest boulder at the bottom of the stairs and yell out, "I'm king of the world!"
- Inflating several large floats, securing them the dock, and Esther looking at me and asking, "Wait, was all that work for
this
?" (naturally, it took about two minutes before she starting thinking "all that work" was worthwhile...)
- Chalupas!
A long-standing tradition... that's good lettuce, Daboo!
- William Bennett's patriotic stories, including the ten-year-old boy who gave his life for his country, read aloud by Corbin
- Daboo's homemade vanilla ice cream - and learning that Grandma Esther's actual recipe card taped inside the kitchen cabinet is the exact recipe Corbin's grandmommy used to make
- Waking to see Basden's toes stretched between the bunk slats above me
- Fun, er, arduous study groups
- Paul and Allison taking the boys for an overnight - what precious, generous friends
Wearing them out at Urban Air
Returning home with new shirts, hats, TCU baseball bags...
- Crazy (windy) picture, but a sweet evening at Grady's Line Camp - YUM.
- Chicken fajitas with Petersons and Schaefers
These three bring loads of joy
- Continuing to discover them like this
Look to the Lord and his strength; seek his face always. Remember the wonders he has done, his miracles... 1 Chronicles 16:11-12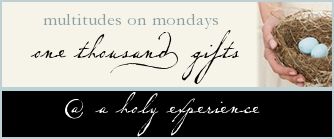 Tweet