- little girls in foam curlers (oh my gosh)
- Rainy Mondays
- Sacrificial husbands
- Tina and her camera
- Corbin taking Bran & Hud for a (quick) trip to the mountains
Bran, Foster and Hudson. I remember dreaming with Mama and Auntie Cam about the day they would grow up and all go ski (snowboard) together... can't believe those days are already here
I know I'm his mom, but he's pretty darn cute
- Meanwhile, a fun Girls weekend here - Menchies topped their must-do list
Yes, she was excited, but Esther has decided to take all of her pictures wide-mouth-shocked these days...
- Boys sleeping in pool house for the first time
- Glimpses of her growing beauty
- Our fireplace... when in use!
- Corbin's Costco shopping trips
- Watching God throw out a bone - a BIG bone
- That even difficult days come to an end. Your mercies are new every morning.
- Years of sleeping together in this queen bed... this marks their last night as twin beds were delivered today
- Baby Giraffe
- A refrigerator and pantry full of good food
- Father, that even the person who is least in your kingdom is greater than the most prominent and successful person ever born.
Except from Treasury of Praise
Look to the Lord and his strength; seek his face always. Remember the wonders he has done, his miracles... 1 Chronicles 16:11-12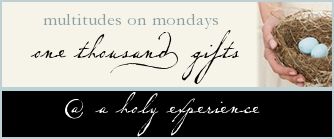 Tweet