- Our brand-new little cousin, Brenna Christian, born 11.11.11. She's the youngest of four - all 4 years and younger! Thankful for a new (beautiful!) James gal.
- A friend's reminder, "Love is the willingness to give to the other person what I have that they need, because God wants me to."
- Hud getting to pretend he was a Dallas Cowboy - we all had fun pretending! Way to go, Superbowl Champs -
Final 6-0. Whew!
- Nettie May's eight years... and how she is loved lavishly by her two-week younger cousin...
- One mouse down - thanks to Yukon
- Friendships that take effort. And those that don't.
-
Ms. Summey
, and the reminder that our faith can bring others before Christ. One day, one friend, one Savior.
- My laundry room - seriously.
- Maggie Boone's arrival. And what her Mama means to us.
- Taking walks here - how it lifts my spirits to be on this path.
- Deut 33:12 - Let the beloved of the Lord rest secure in him, for he shields him all day long and the One the Lord loves rests between his shoulders. LOVE this.
- Basden's EIGHT years - she is truly my little joy.
Look to the Lord and his strength; seek his face always. Remember the wonders he has done, his miracles... 1 Chronicles 16:11-12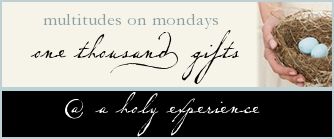 Tweet