- Those Rangers... and those players who make up the team.
- Celebrating the first World Series game (even with a loss)
- Dr. Nelms' generosity
- Napoli's 3-run homer (C'm on! It's the World Series!)
- Nowhere else we'd rather be
- Josh Hamilton, and this book we are loving reading aloud with our boys. Each chapter leaves them begging for more
- A dust-filled home. All points to progress.
- Mama & Papa having a place here in Fort Worth.
- Nickmo!!!
- Skylar knowing the ins and outs of our family, home, dogs - her friendship and service to us
- Taking time to be still
- Hud's quick catch at pitcher
- Many years of celebrating birthdays with Hotchkisses
- Esther's "double" grin - she smiles, then when our eyes connect, it goes even deeper
- Peeking in at the sisters asleep, all limbs a tangle, in that big queen bed
- Nightly routine
- Hud playing memory on the floor with Es
- Cappy & Daboo in the stands
- Bran grateful for being out of a slump
- Cloudy day, cooler weather
- Boxing gloves
- THIS story. HILARIOUS.
- Davis' hospitality - AND theater room to watch the World Series!
- Dependent on the Lord directing my steps. Too many to figure out on my own.
- These two and their love for this
- Open conversations in the bleachers
- The end of an era - Randy and Lindsay taking their dining table to it's rightful home - after a decade in ours. Oh what sweet conversations move along with it.
- Anticipating two more baby cousins (makes 14 for the James side alone)
- Brighton's EIGHT years today. Love you, sweet boy!
Look to the Lord and his strength; seek his face always. Remember the wonders he has done, his miracles... 1 Chronicles 16:11-12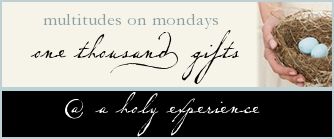 Tweet