- Creative Mama
- Cooking in Mama's kitchen, with people who can really cook
- Uncle Alan's turkey
- Bran and Hud's "man cave" in the suburban
- That the piano never sat silent
- Our Christmas gift from Benjamins
- These awesome yellow things... transformed ice skating with little ones
- Bran getting to help Uncle Alan with this thing - a just-minutes-ago decapitated elk
- Lots of little mouths to feed
- Powerful prayers from a friend
- Painted teapots, needle felting, picture collages, mancala, boys camping in a blizzard
- Corrina! What a gem. Photos from Uganda, India, slum children, goodness...
- Hunting for pine cones - and bringing home three bags of bounty
- That my eldest becomes a BOY in the mountains
- Foster's influence evident with Hudson asking for a Thermarest for Christmas
- A super thoughtful birthday gift
- One night of sleeping in the loft with
both
our girls, sweet.
- Essie and Rowan BFFs - a new (fantastic) development
- Nickmo saving the day, at home watching Cross & Ruby (no small task)
- Corbin meeting little Pate for the first time
- Corbin driving eleven hours
- Taking the time on road trips (with my husband driving) to organize pictures on my laptop
- Alan and Vicky's easy, generous hospitality, and how much the Wilson kids love being with the Keister crew
- The boys' admission of their favorite holiday tradition - spending time with relatives - something I don't have to "do!"
Missing four from Seattle...
- A week's break from thinking about our home and all the goings-on there
Look to the Lord and his strength; seek his face always. Remember the wonders he has done, his miracles... 1 Chronicles 16:11-12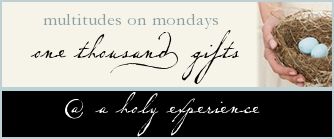 Tweet