- Esther wearing her great-grandmother Esther's dress, which the original Esther sewed herself
- This very special mustard...
- My guy who's as awesome as the one on the book cover
- Tulsa time... rule follower colliding with free spirit
- Being anticipated
- That Broderick, 2, will be a big brother in a few months
- Bogan's big grin - and that he loves his auntie!
- Bogan's first goal
- Bogan's second goal
- Bogan's third goal!
- Branson's sweatshirt from Gap kids, now worn by Broderick... I remember buying this as Bran toddled around the mall, anticipating a long soccer career for my boy. Passed down through all of my own kiddos and now on to the soccer-loving James cousins.
- My heart runs deep for Julie and Luke (and Mom!)
- This coffee table, seasoned with laughter and conversations and tears and stories (and stories and stories...) from Granny's south Texas den. Now surrounded by even more stories in its home in Tulsa.
- Basden wearing a costume my mom sewed for me as a young girl for a piano performance, of all things. I remember my resourceful mother using fabric we already had - red with little white hearts, and coordinating white with red. Darling! (and resourceful - Mom still had it in her attic!)
- Queen Esther. She came up with this one all on her own. "Because my real name is Esther."
- Hud's 1/2 price soldier costume, found the night before at Cracker Barrel!
- Bran coming up with a "friendly" costume. And John the Trix rabbit...
- The fact that Halloween is OVER (notice that all the kids changed costumes in the few days that passed between the school parade and actual Halloween??!)
Look to the Lord and his strength; seek his face always. Remember the wonders he has done, his miracles... 1 Chronicles 16:11-12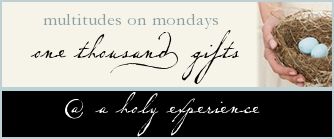 Tweet