- Turning a new calendar page
- Struggling with sending our youngest to school... the gratitude that comes when it's ONLY that
- Continued construction... so fun to see the progress
- THIS in our driveway
Last weekend during some Sat morn chores, I asked Hudson if he was up to a "yucky" task, and his eyes grew wide as he thought I was asking him to clean out the porta-potty.
- Dog crates (have I mentioned those??!)
- Moms-in-Touch... praying Scripture over our children with fellow school moms
- Surprises from Auntie Paulette
- Chips and salsa
- Relaxed evenings, a sign of the time with fewer sports this fall
- When broken meets creative
- Homework (often chaotic) at the kitchen counter
- Big boys who aren't too big to still pretend-play karate
- Quizlet
- Popcorn and perfection
- River's 6th year (Happy Birthday in Seattle, Riv!)
- Toasted cheesy bagels for easy dinner
- Watching Cappy with his grandkids
- A full fridge
- That little game in Waco Friday night
-
David Crowder
- that he was brave to chase his dream, and that I get to benefit from it year after year through a speaker on my kitchen counter
- Chris'
"40 Under 40"
award
(so, so proud!)
- C's big work deadlines OVER
- Nikki's phone
- Margin in my days
- This one putting up with two rambunctious puppies
Yukon often wears this resigned expression these days
- Hudson doing his homework independently and thoroughly
- Our
full
suburban
This pic was snapped two days after the above one... the boys simply didn't take these shirts off all weekend.
- The dilemma of having to choose between two great Bible studies
- When everything stops for sunsets at the lake
- This
junglegym
bunkbed
- Her favorite perch
Look to the Lord and his strength; seek his face always. Remember the wonders he has done, his miracles... 1 Chronicles 16:11-12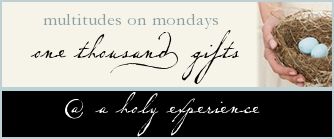 Tweet